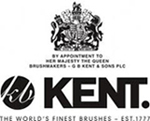 Kent is an English company founded in 1777 which over the years has earned a reputation as the makers of the world's finest hand-made hairbrushes. To this day, they hold the Royal Warrant for brushes made for the English Crown. Their line-up has been expanded to include women's, men's and baby products, as well as hand-made sawcut combs and men's shaving brushes.
The Kent faux tortoise shell combs are beautiful and have been hand polished to glide through the hair without causing damage or scratching the scalp. Both flexible and strong, the combs are suitable for both professional and home use.
Kent shaving brushes are for all shavers from young to mature, and feature both pure bristle and pure badger. Designs are both traditional and modern to suit all tastes.